I help move your IT technology forward
I started working with the computers because I was not satisfied with IT technology and I wanted to help others and myself.
I have been making customized solutions since 2009. I am programming in several programming languages. For each problem I always choose the most suitable language.
I am happy when my work helps somebody else and makes his work easier.
The development of software does not concern only making programs. At first it is necessary to understand the needs of a customer and the problem which is to be solved. Then the suggestion of the solution follows and then the exact specification must be done.
After implementation, it is necessary to maintain the servers where the implemented application runs.
I continuously propose and implement other ways to
make work process more effective
and I write the
documentation
.
If you need to solve IT problem or get some advice do not hesitate to contact me.
You can expect these advantages
I use both my theoretical knowledge which I got at my studies of information at the Technical University in Prague (ČVUT) as well as my practical experience. I always go to the heart of each problem and try to understand problems around me.
I have individual approach to each customer and I suggest the solutions and development which lead to the best result.
The software which I recommend I know well as a programmer and also as a user and therefore I am able to offer practical and complex advice. For example I have experience not only with adjustment and development of PrestaShop e-shop's addons, but also with using this software. Therefore I am able to explain in detail its functioning, point out possible problems and difficulties and suggest how to avoid them.
I prefer continuous personal consultations but at present I often use electronic communication, e.g. e-mail, chat (jabber), telephone or VoIP.
Writing documentation is standard for me. The project, who to live, needs maintenance and solution of requirements is very hard work, without documentation.
Reference
Migration of servers and applications: Motonet s.r.o. , TOP09 and Potvor.cz
Develop embedded devices with Linux using Yocto Project .
Warduino - platform for wireless communication. Warduino was awarded the prize in a magazine for the design of electronic journals PE-AR.
Weather station to estimate the thermals. The device for detection of ascending air flows.


Wireless Real Time Temperature measurement for Android.
Import of goods to Eshop Prestashop, the update of the store and prices of the goods.
The device for playing music – JukeBox.
Servers: net store, firewall, mail server, web server, etc.
Managing virtual and physical servers of company Knitva s.r.o. li>
Application for the administration of firm customers and logistics (planning of routes).
Technology
When i work on projects, I learned the following techniques:
OS GNU / Linux
Ethernet, WiFi, TCP / IP.
Programming languages: Java (SE, OpenCard, Android), Bash, SQL, PHP, Python, C/C++.
HTML, XML, LaTeX.
Software Release (SVN, Git), Junit, Scrum.
Administration of Linux Servers (RedHat, Debian): RAID, apache, postfix, dovecot, mysql, named, LTSP, samba, asterisk, openvpn, openfire, ssh, virtualizace ect.
Yocto, Bitbake, Embedded Linux
Troubleshooting, encryption, network and application security.
Microprocessors PIC (IQRF) and AVR (Arduino), ESP8266, soldering.
ARM single board PC: Raspberry Pi, Banana Pi R1.
Eshop Prestashop, SEO.
Lectures
I regularly attend conferences not only as a listener but also as a lecturer:
Personal achievements:
In 2013, I completed 526 hours of sports training and 350 of them were cycling. At the weekend I had two MTB ½ marathons and I myself provide support and service. And all this while a I was an employee.
The climbing stream detection project for racing airplane modelers has helped win a medal place several times.
In my spare time, I have fully assured the cooperation of the company and the sports team with the design and realization of the sponsored items.
During the two flu I learned to solved a Rubik's cube and in two summer I learned to swim kraul well.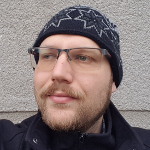 Contact
Bc. Josef Jebavý
51401
Jilemnice
IČ:02532271
email:
email@josefjebavy.cz
registered in the trade register